Secure content
& collaboration
Oodrive Work is a trusted environment for all your sensitive content and documents. Create, collaborate and share more effectively without ever compromising the highest levels of security.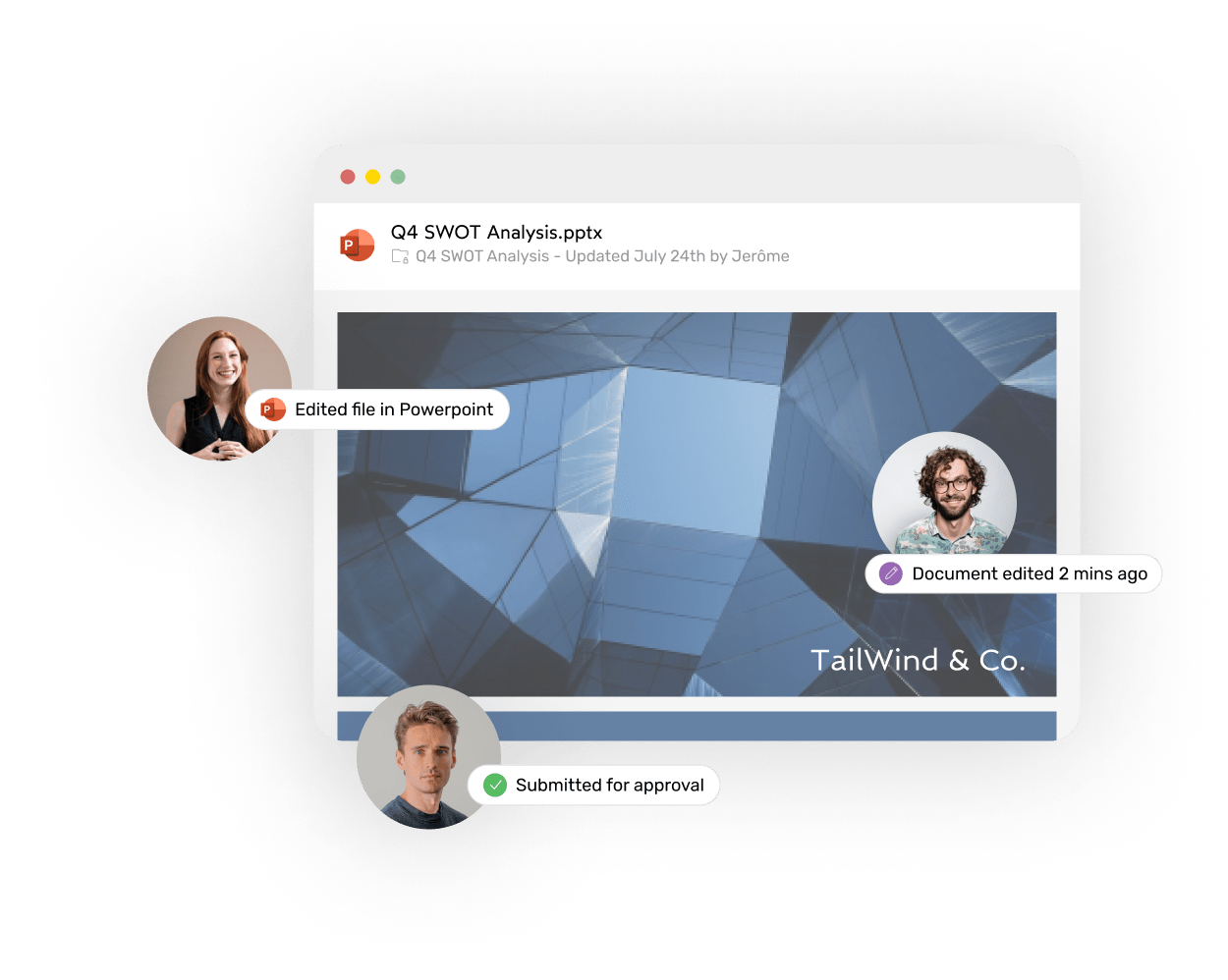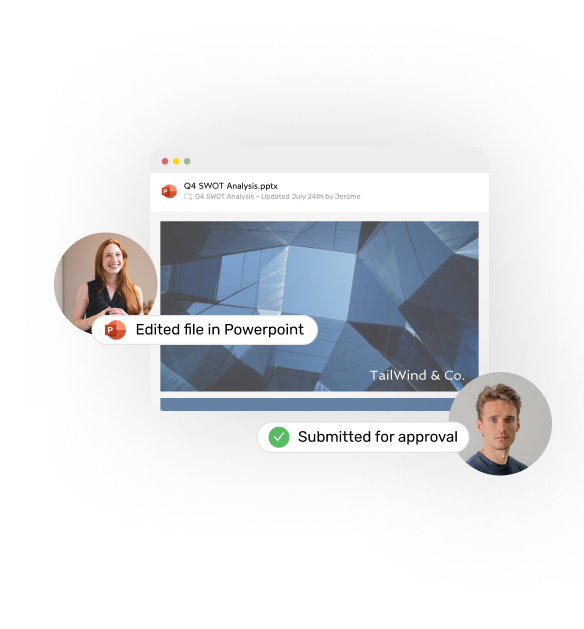 Keep content & data secure
Manage all of your sensitive files and media in a single place, secure at all times. Oodrive makes it easy to monitor content usage, flag and investigate anomalous activity, and control in detail how data is shared and used, reducing the risk of leaks.
Keep an audit trail of every aspect of user rights, content classification and workflows across the extended organisation and receive automatic alerts of potential breaches.
Choose a robust authentication method best-suited to your organisation, including SAML 2.0 (SSO), LDAP, biometrics on mobile devices and even time-based one-time passwords (TOTP) and hardware security modules (HSM).
Manage a secure repository for sensitive and restricted content. Oodrive's solution is uniquely accredited for use with restricted content (ANSSI SecNumCloud, ENISA EUCS).
Insulate your organisation from third-country security risks and comply in full with local data regulations, with ultra-secure sovereign hosting options in the jurisdiction of your choosing.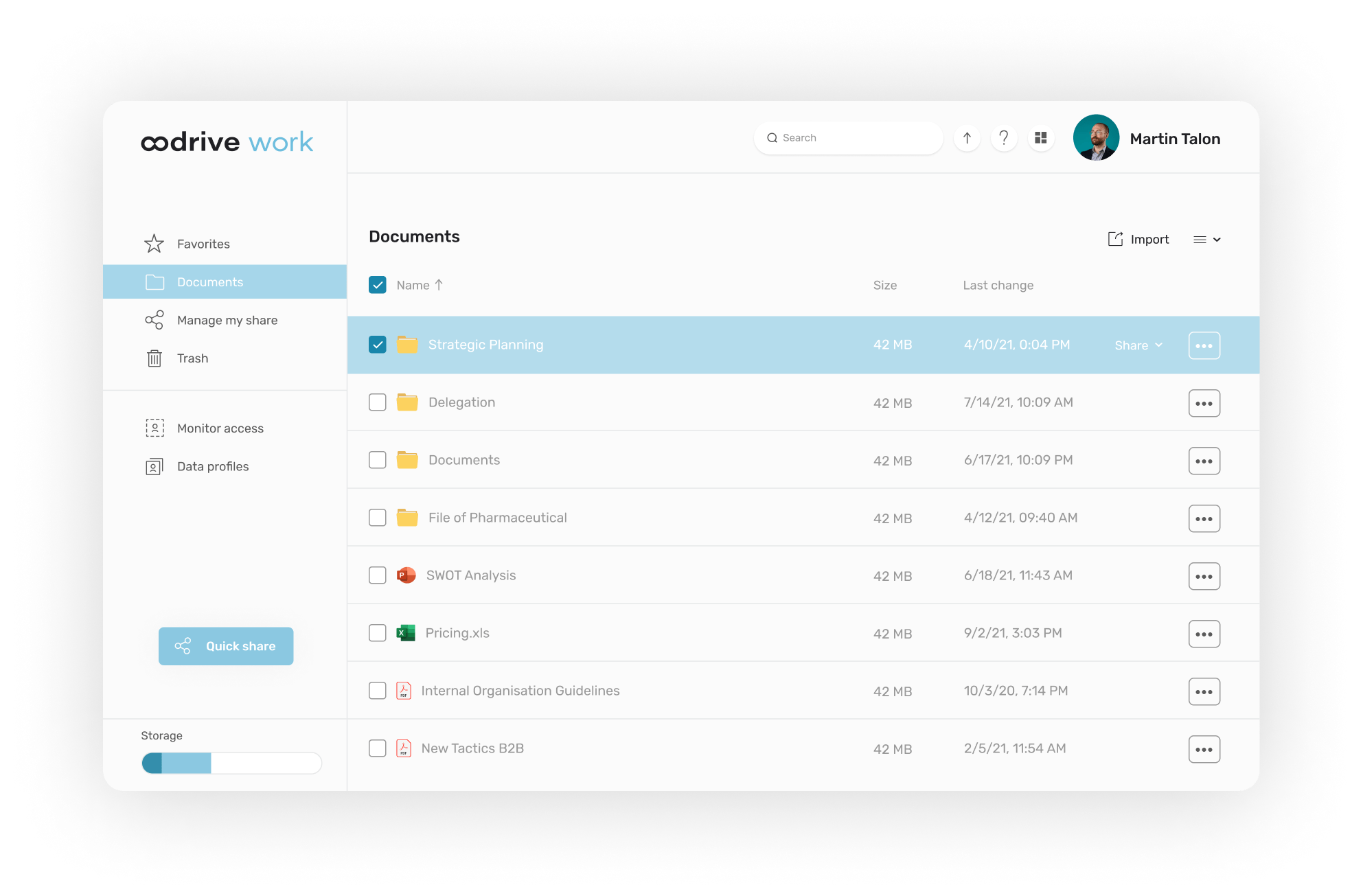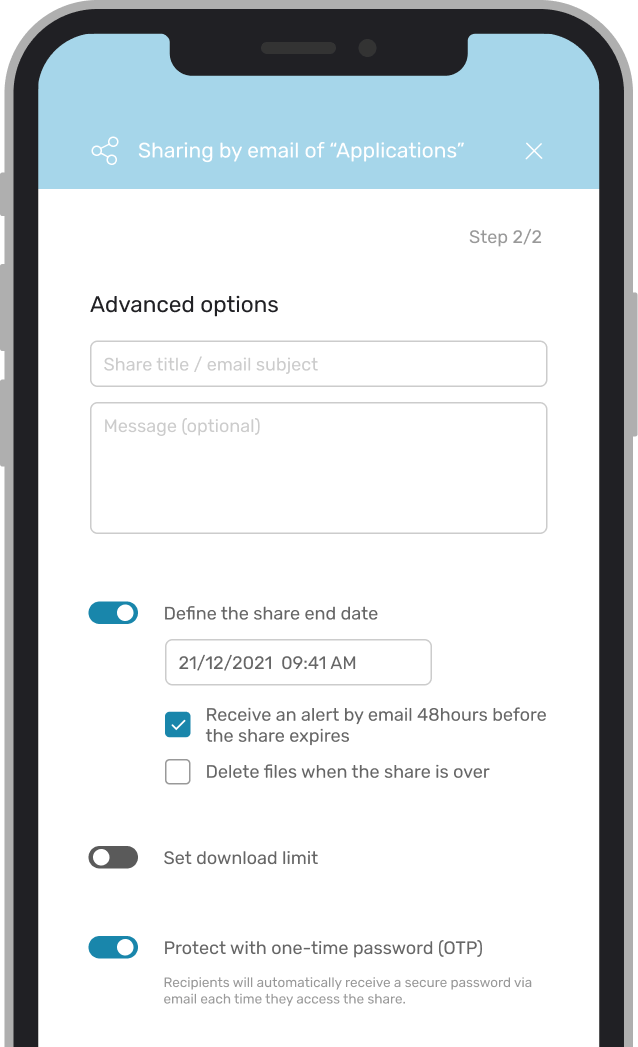 Create, store, find, and share secure files with ease, without worrying about data security rules or technical limitations such as size. Oodrive Work makes collaboration simple and fast, whether you are in the office or working remotely.
Work with easy-to-use web, desktop and mobile apps, with an intuitive, well-designed interface that doesn't slow teams down.
Share content directly within everyday productivity apps such as Microsoft Teams, Microsoft Outlook or Salesforce, thanks to secure connectors and end-to-end encryption.
Always see the latest versions of files, with synchronisation across your workspace, desktop and mobile apps, so that everyone is on the same page.
Ensure security with granular access restrictions and transport layer security (TLS) encryption on sovereign infrastructure, plus automation of transfers and sensitivity tagging, and options to wipe devices after failed access attempts.
Get instant secure access to files and folders in the office, working remotely, or on the move. Oodrive gives teams the solutions they need to rise to the challenge, with tools to view, co-edit, annotate and share files – even create workflows on the fly.
Work with intuitive interfaces that draw on in-depth user research for their UX design, minimizing the need for training, with no compromise on security.
Create and co-edit documents in Microsoft Word, Excel, PowerPoint and more in real time using a securely hosted instance of Microsoft 365 or equivalent.
Find files fast with powerful search functions and filters, and create a customised interface that helps teams feel at home.
Move projects forward with secure folders, dropboxes and bespoke media hubs shared with business partners. Closely control the use of files, receive usage reports, set expiration dates, assign editing and printing rights, limit downloads, and add dynamic watermarks.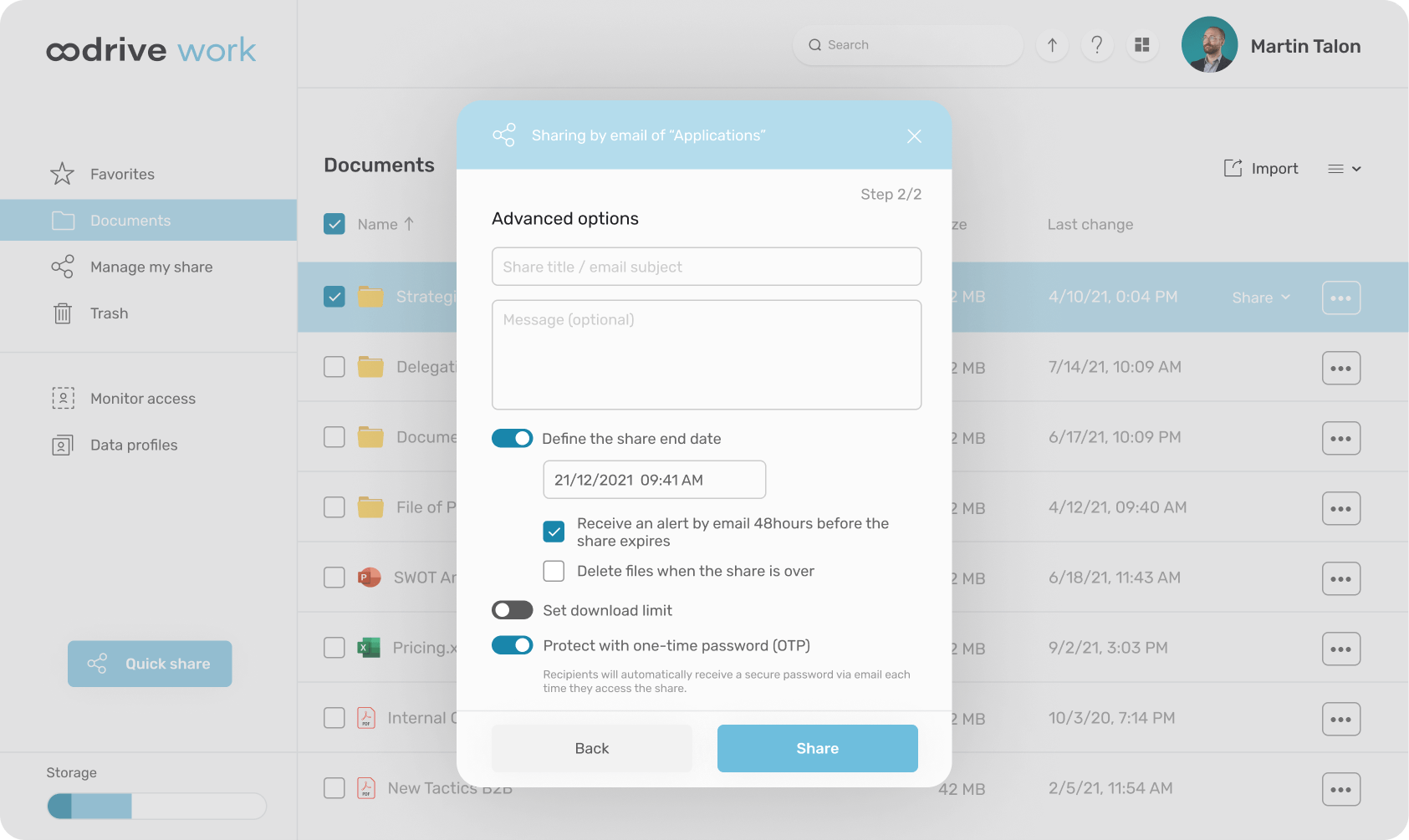 Restore lost files or folders, compare versions, and permanently delete files from all locations in a single click. You can control, integrate and automate all Oodrive features using the Oodrive API.
Apply your compliance policy in full with controls, permissions, monitoring and a full audit trail. Oodrive is permanently maintained to the most stringent security and sovereignty classifications.
Work together from anywhere at any time, mobile and even offline, with synchronised documents. Oodrive Work is available in English, French, German, Spanish, Italian, Japanese, Portuguese, Thai, Dutch, and Mandarin Chinese.
Microsoft 365 integrations
Collaborate in Mictosoft Word, Excel, and PowerPoint on a securely hosted instance of Microsoft 365 or trusted equivalent. Share files with links in Microsoft Outlook and embed usable files and folders into discussions on Microsoft Teams.
What is a trusted collaboration platform?
Learn about trusted collaboration, project data security, and more with our FAQs.
A trusted collaboration platform brings together all the information and documents needed to move a project forward. Users have access to a virtual space where they can upload and edit files and share them with internal and external contacts.
Unsecured collaborative working online exposes a company to sensitive data leaks. More than two-thirds of organisations believe they are exposed to cyber attacks. It is therefore essential to choose a collaborative solution that offers maximum guarantees.
A quality collaboration platform must include features that simplify, optimise and secure project management: simplified navigation, synchronised editing and modification, administration of access and usage rights, smooth sharing, mobile access, etc.
Oodrive Work works with your company's existing tools, including Microsoft Outlook. When a user attaches a document to an email, the file is converted into a 100% secure link and becomes accessible/editable by the recipient if they have the necessary access and usage rights.
Oodrive Work includes an advanced transfer tool which does not impose a volume or size limit for shared files. It also takes into account all types of files and folders. This means you can send and receive an unlimited number of large documents.
Oodrive Work adapts to your brand, so you can customise many elements. Each user can also customise their workspace file structures to store documents and share them efficiently and securely.
No training is needed! Oodrive Work is easy to use for all types of users, whether you are a beginner or more experienced. Everything is designed so that the solution is easily accessible to everyone. All the features are documented in the solution's help area.
Oodrive Work offers three levels of administration rights management: for the supervisor (who decides the general settings and security levels), for managers (who create users and manage access rights) and for users (who access shared data).
Three hosting modes are possible with Oodrive Work: on-premise, in the public cloud (SaaS), or in a private cloud. It's up to you to choose the hosting solution that best meets your business-specific constraints and security requirements.
Data protection is guaranteed by the European legal framework, which imposes demanding certifications and rigorous security protocols. Make sure data is hosted on servers subject to European law, as is the case with Oodrive Work.
For an organisation, sensitive data means information of economic and/or strategic value the loss, deterioration, theft or fraudulent use of which would be detrimental either to the organisation, third parties or the community.
Sensitive data may be lost, altered, erroneously deleted, damaged, stolen or used fraudulently. It may be subject to a cyber attack or a victim of insider negligence. To avoid these risks, it is important to use a secure file management and sharing solution.
The data exchanged within today's companies is immensely diverse. This data is made up of office files (Word, Excel, PowerPoint, etc.), large files (videos, technical files, project follow-up, etc.) and sensitive data (defined above). A file-sharing tool allows for differentiated processing.
Mainly large companies and organisations are subject to special security requirements due to the sensitivity of their data (vital operators and essential services operators). Oodrive Work is the only solution on the market that is fully devoted to sensitive-document management.
Oodrive Work is integrated into a company's email system so that a file attached to an email is automatically converted into a secure link. The recipient clicks on the link to access the document and can then perform different actions depending on the rights they have.
Oodrive Work does not impose a size or volume limit on shared documents. Its transfer technology allows it to overcome limitations: large files and folders can be shared quickly and easily.
Oodrive Work has ways to keep stored data confidential and protect its integrity. Access is controlled via a strong authentication system that ensures the logged-in user is permitted to access the solution and perform actions.
Oodrive Work is a SaaS solution that offers great hosting flexibility: public cloud, private cloud, SecNumCloud private cloud certified by the French National Cybersecurity Agency, or on-premises. Each approach comes with the benefits of the tool: a quick learning curve, an enriched and unified experience, simplified collaboration and increased productivity.
Data is subject to the law of the country where it is hosted. Oodrive Work guarantees its sovereignty by storing it in data centres in the European country of choice, protected by European law. These data centres follow stringent security procedures and have the most demanding certifications.
Oodrive Work has traceability features for documents exchanged and actions carried out by users. This way, administrators always know who has logged onto the tool, what documents they have consulted, and what actions they have performed.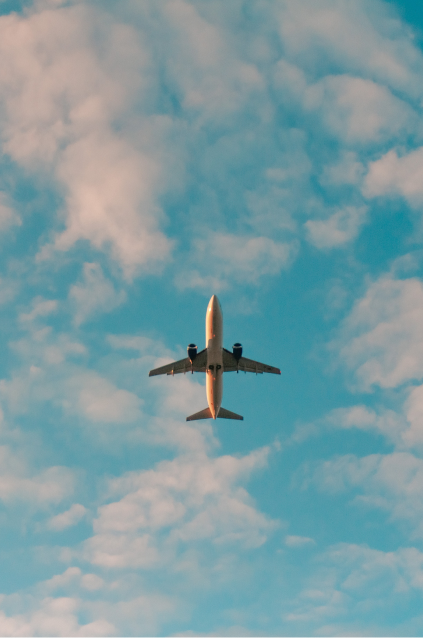 We supply jets both for commercial use and for the defence sector, so we need a secure system to share confidential information with our subsidiaries. Oodrive is that system.
Read more about Oodrive Work
Give teams the confidence to collaborate at speed
Find out how your business can secure sensitive content, without slowing down work.
This site is registered on
wpml.org
as a development site.