Sign with confidence, in confidence
Easy-to-use electronic signatures with full legal value, ready when and where you need them. Accelerate authorisation for internal processes and external agreements with signatures that embed directly into workflows, delivering the speed and safeguards you need to build better relationships.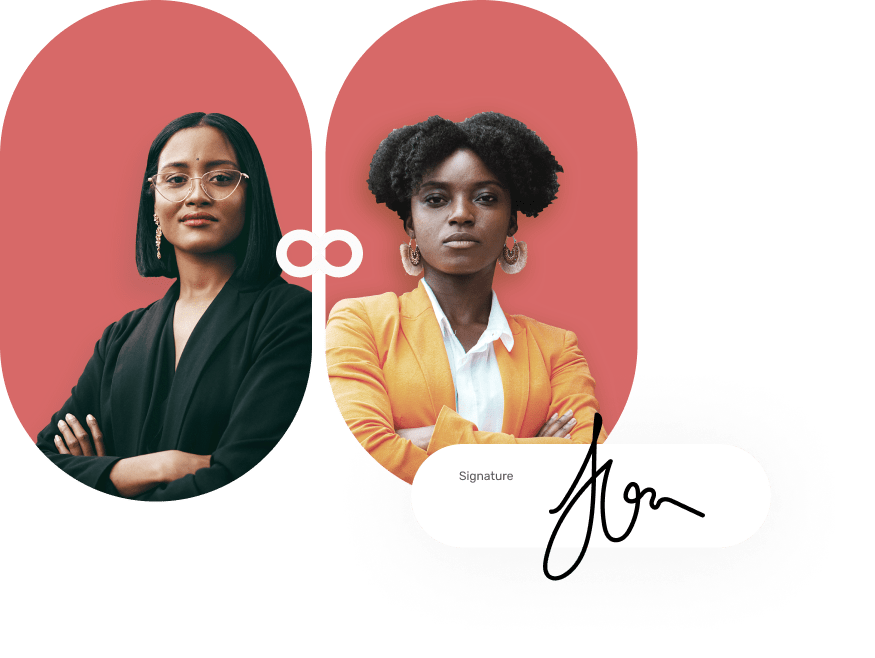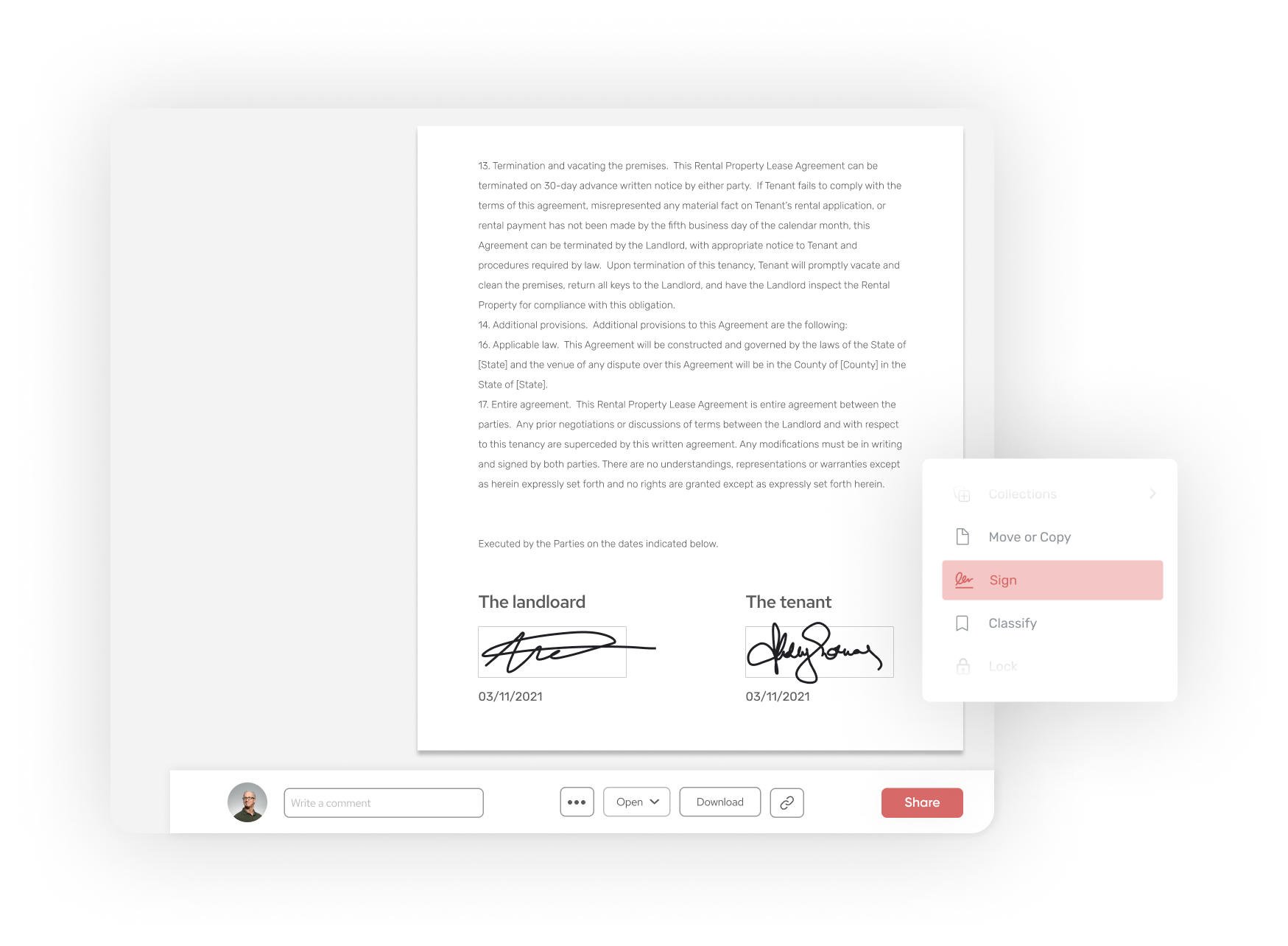 Ensure best-in-class security and full compliance with legally binding electronic signatures in line with all EU legislation, giving the best protection available to your relationships and metadata.
Fully eIDAS compliant so that your e-signatures are enforceable across the EU and worldwide.
Probative value in law with compliant data retention.
Trusted infrastructure, insulated from external interference and data leakage.
Make internal and external business processes faster and more reliable with electronic signatures and approval workflows tailored to transaction types and business sectors.
Create more productive line-of-business processes. Shorten turnaround times and reduce costs with dematerialised, remote approvals.
Share documents with signatories in a secure space, with collaborative features to exchange information, annotate, and validate documents from anywhere,
on any device.
Collect e-signatures with ease. Send instant signature requests and reminders at a click, while tracking progress from a single dashboard.
Improve the customer experience and increase conversions. Electronic signatures enable the digital transformation of customer-facing processes.
Discover Oodrive Sign for software vendors
Incorporate electronic signaturesand custom contract workflows inside your own apps. We offer a complete program for software vendors and solutions integrators.
Embed electronic signatures in all your business processes.
The API-first approach of Oodrive Sign makes it easy to include electronic signatures in business apps and workflows, including customer-facing interfaces such as web sites and mobile apps.
Drag and drop documents from your standard productivity solutions directly into Oodrive Sign.
Automate data collection and integration. Use smart tags (Smartfields®) in your documents for fast and efficient data collection, such as exchanging data with your CRM.
Access best practices and explore the best ways to deploy electronic signature in your organisation with support from the experts at Oodrive Success.
Embed electronic signatures in all your business processes. The API-first approach of Oodrive Sign makes it easy to include electronic signatures in business apps and workflows, including customer-facing interfaces such as web sites and mobile apps.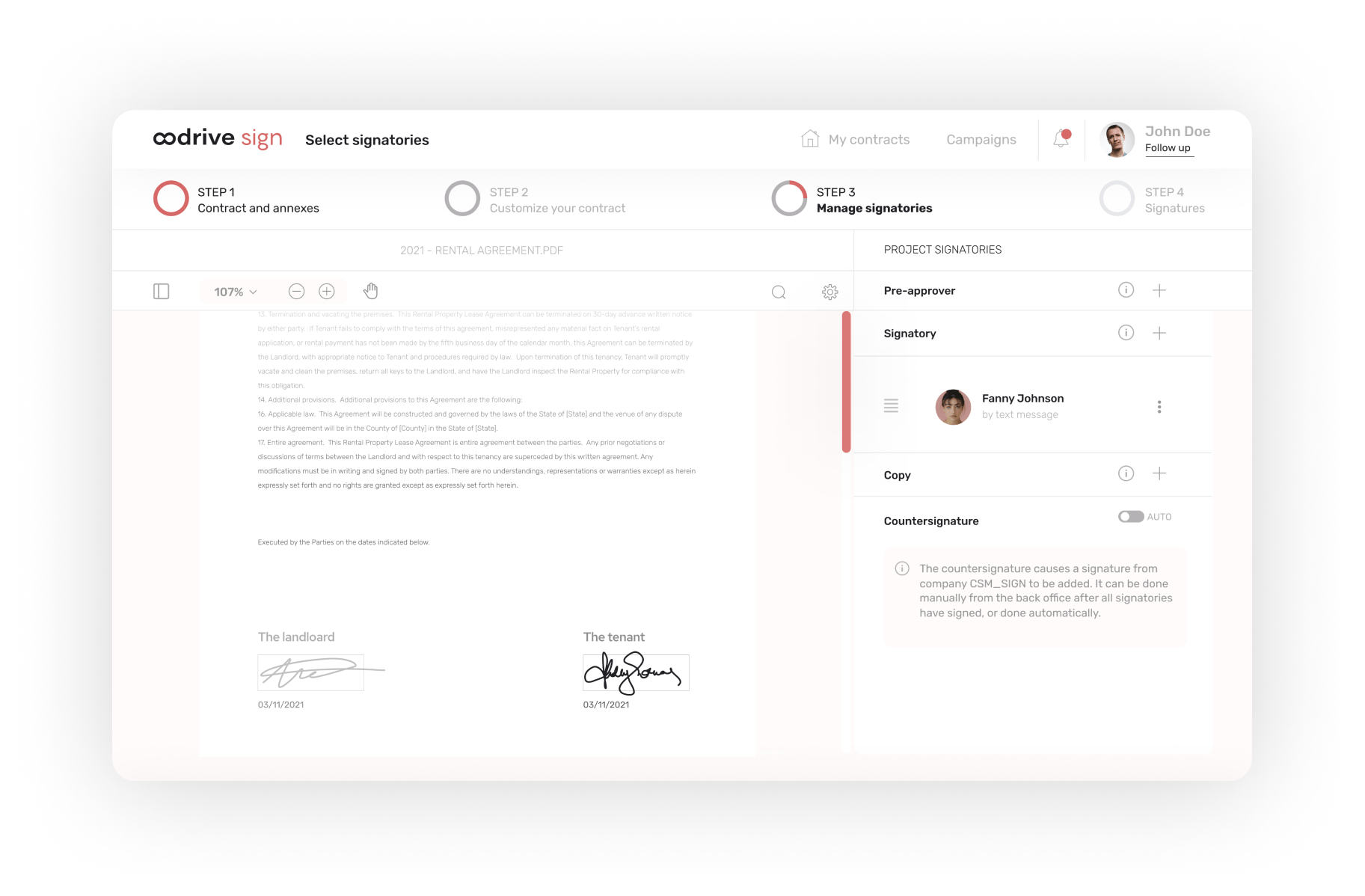 Approve multiple documents in one go
Merge PDF files into a single bundle with clearly displayed signature requirements to make it easy for signatories to approve multiple documents in one go.
Collect pre-approvals, giving signatories the option to add supporting documents and information later. Once everything is assembled, documents are automatically sent for final signature.
Control the whole process
Allocate roles in accordance with each user's profile, for foolproof workflows, full oversight, and clear control over the signing process.
Use Oodrive Sign on any device even when you are not connected. Signatures made offline are automatically synchronised as soon as a connection is re-established.
What is an electronic signature?
Learn about electronic signatures, probative value, compliance, and more with our FAQs.
An electronic signature is a dematerialised signature. More than simply the digital equivalent of a handwritten signature, it is a technical process by which a signatory appends their agreement (signature) to a digital document using a dedicated tool.
Signing a document electronically requires the use of a signature tool (which irrevocably confirms the signer's engagement and guarantees the integrity of the signed document) and the support of an electronic licence provided by a trusted third party.
An electronic signature reduces processing times, improves document security and traceability, ensures legal compliance, optimises signature procedures, saves money and, by reducing the use of paper, reduces harm to the environment.
As the issuer of the request, all you have to do is connect to the Oodrive Sign application platform, enter your username, authenticate yourself and select the document(s) to be submitted to the signatories. You can specify deadlines and monitor the progress of the signature process.
As the signatory, all you need to do for a simple signature is click on the link in the notification received to access the platform, go to the signing tool, authenticate yourself using a verification code sent by SMS, click on the 'sign' button, then confirm the status of the signature.
An electronic signature can be used on any document available in digital format: quotations, purchase orders, employment contracts and amendments, internal documents, membership or subscription forms, etc. More sensitive documents, however, require an advanced or qualified signature.
Oodrive Sign offers you great flexibility in terms of signature procedures. Define your approval process to suit your business needs, with complete freedom, while benefiting from the same security guarantees and the same probative value for your documents.
Oodrive Sign offers the three levels of guarantee provided by the eIDAS Regulation: simple electronic signature (the lowest level of security), advanced signature (which guarantees the identity of the signatory and the integrity of the document) and qualified signature (the highest level of security).
A document signed on Oodrive Sign has the same probative value as a handwritten signature under the European eIDAS (Electronic Identification and Trust) regulation. Therefore, the legal effect and admissibility of an electronic signature cannot be denied on the sole ground of the format adopted.
The identity of the signatory is guaranteed by an electronic certificate issued by a certification authority. Oodrive Sign works with third-party Trust Service Providers, such as CertEurope, responsible for verifying the identity of the signatory through various degrees of checks depending on the level of guarantee required.
Read more about Oodrive Sign
Start building better business relationships
Find out how your business can secure sensitive content, without slowing down work.
This site is registered on
wpml.org
as a development site.