Secure conferencing and board meetings
Make meetings effective with video conferencing, scheduling and meeting tools that empower open discussion in a secure environment.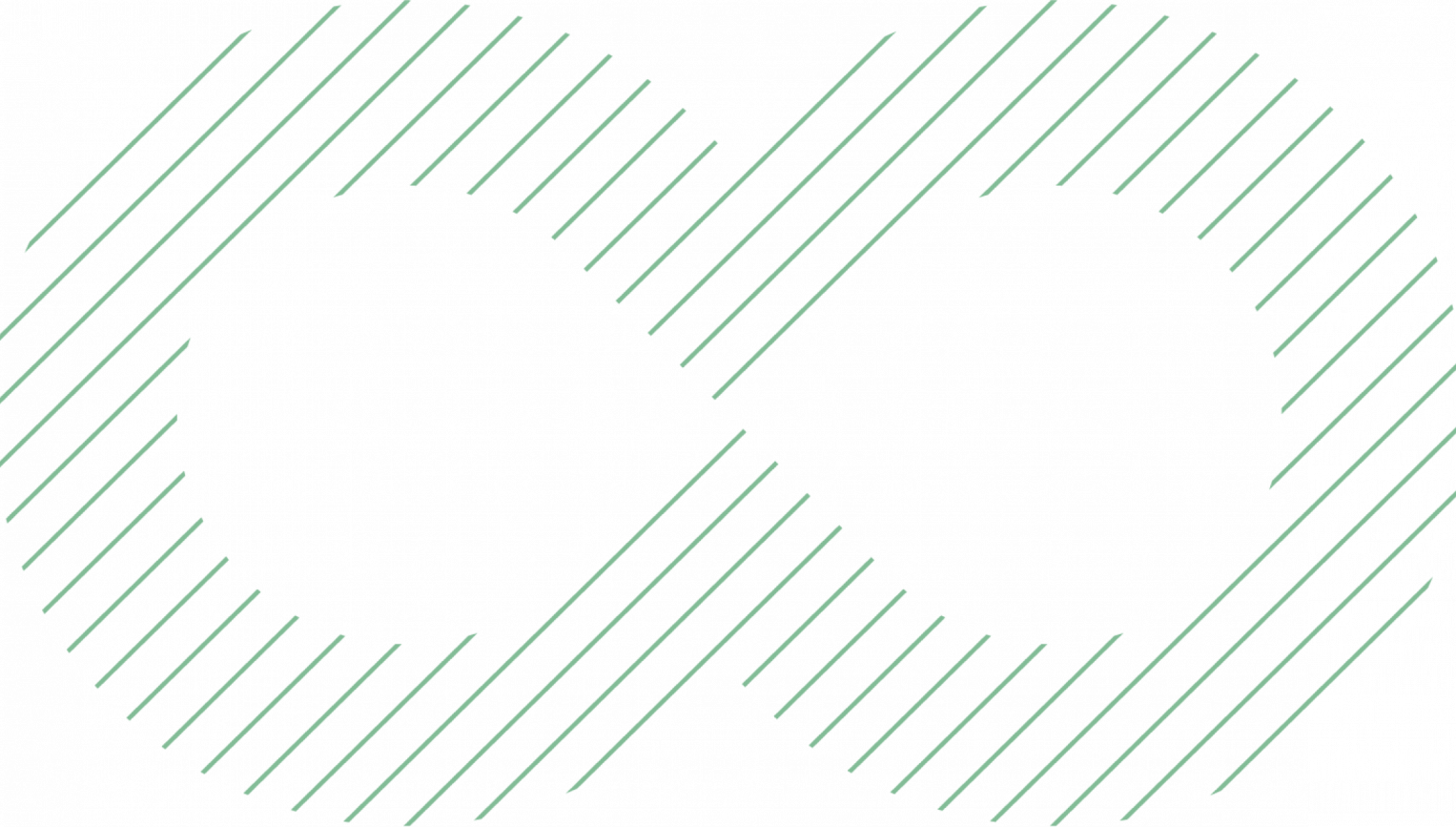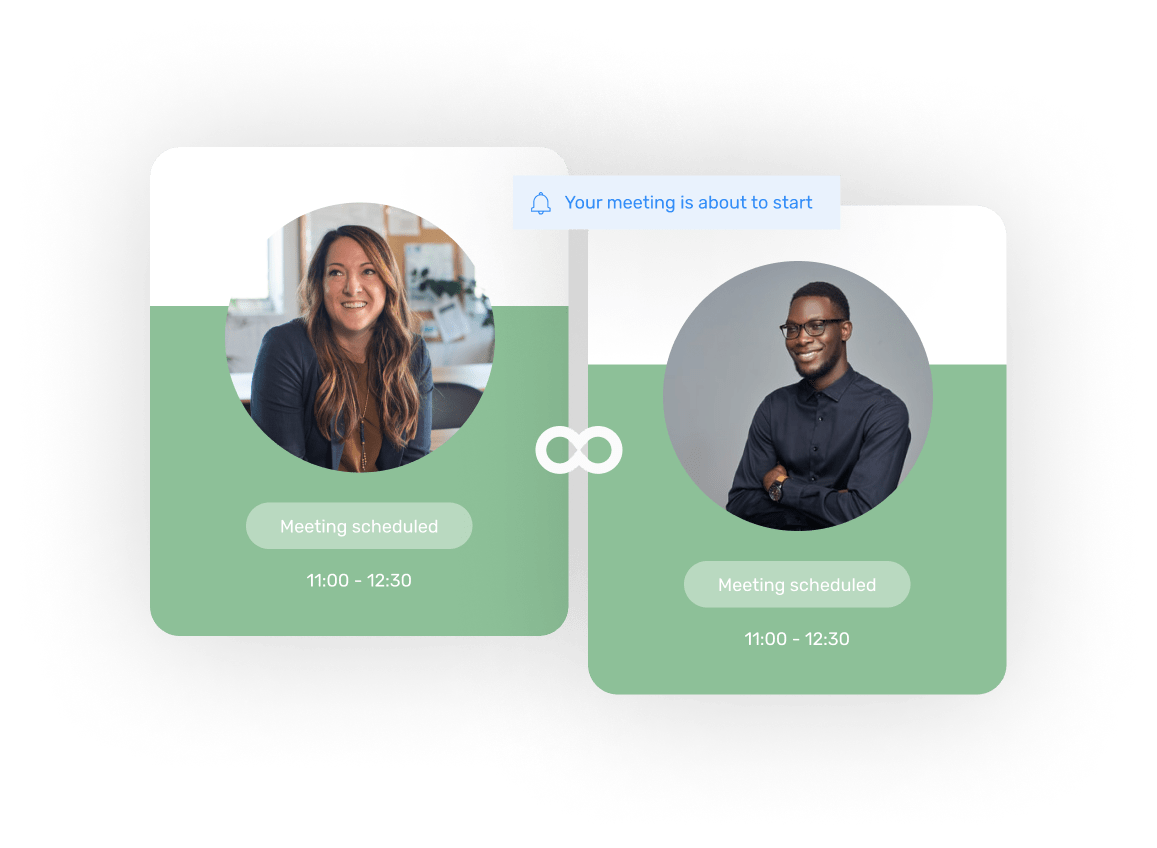 Oodrive Meet makes it easy to manage every aspect of a remote meeting, from finding a time that works for all participants, to compiling documents for review, to communicating outcomes.
All within a secure environment.
Designed to drive high-level discussions in full compliance with security needs, from management and executive board meetings to security, governance or operations committees.
Organise and host secure meetings directly within Microsoft Teams thanks to tight integration.
Manage everything in one place, from invitations, to document rights, to voting.
Set the agenda and attach relevant material to each topic, with tools to compile, share and validate documents with ease.
Personalise notifications to attendees, and grant and restrict document access by user and by file, with rights to view, annotate, and print.
Build custom workflows using the Oodrive API.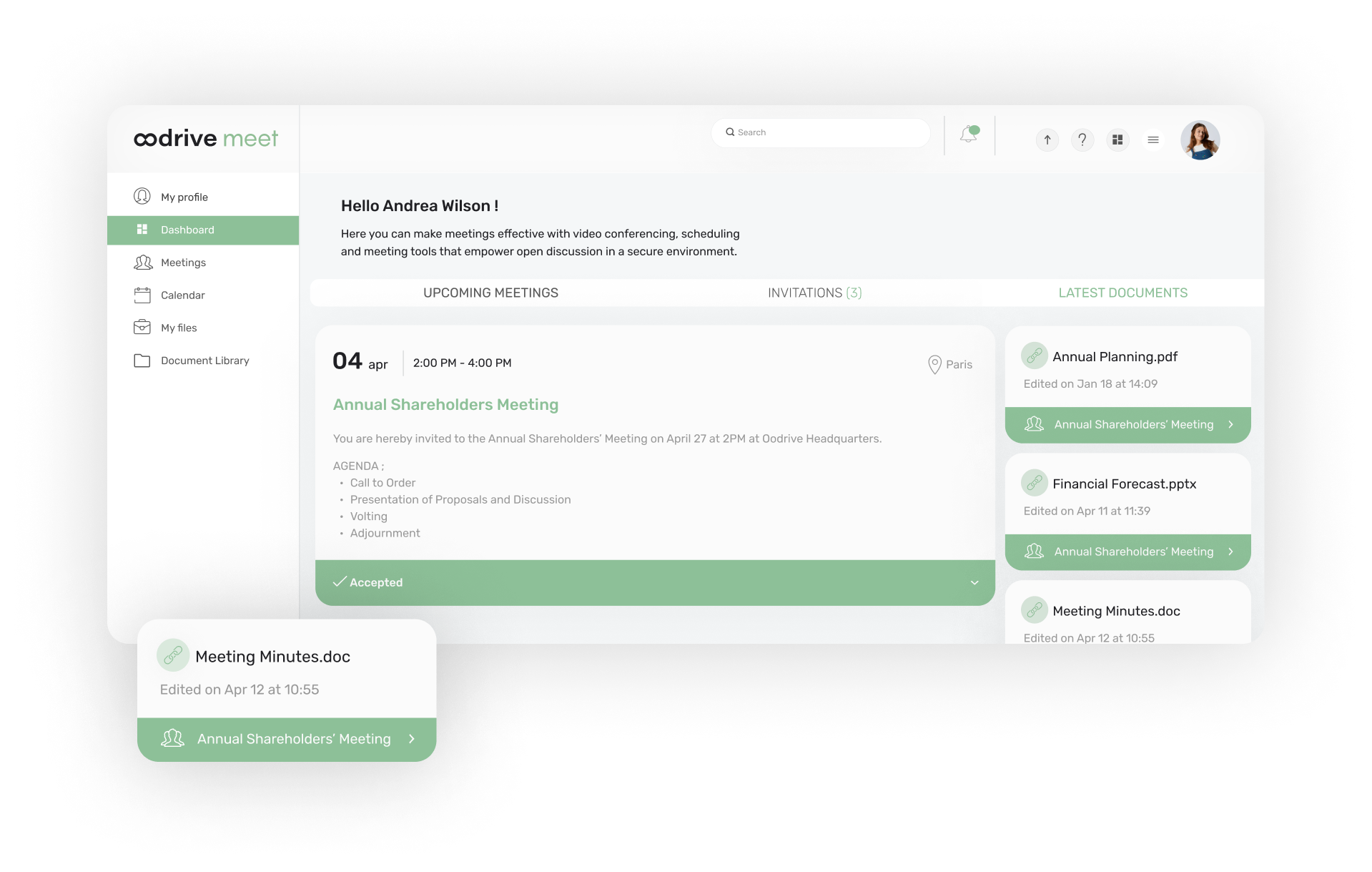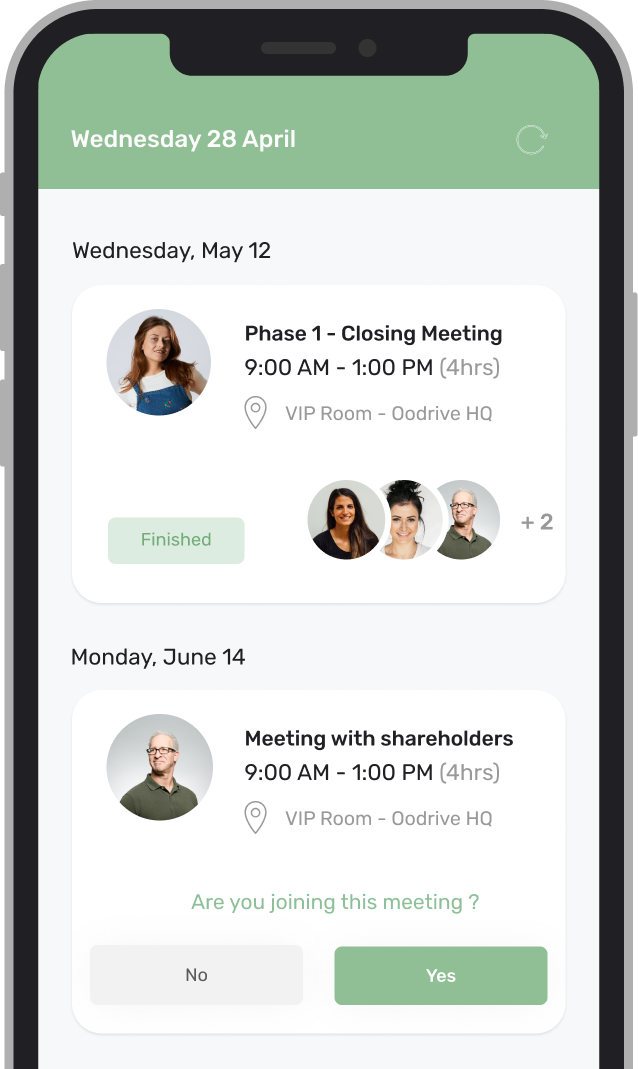 Energise informed discussion by making it easy for attendees to find the information they need. Oodrive Meet brings work calendars, agendas, and documents together in a single secure space, available on mobile, tablet or desktop.
Make annotations to documents, discussions and minutes and share them with individuals or all participants, with intuitive tools that work online or offline without the need for third-party applications.
Approve documents securely, and at speed, with integrated electronic signature.
Update materials on-the-go, from anywhere, and any device.
Easily track changes with automatic notifications for every modification, from document edits, to updates on attendees or agenda items.
Give leaders a single source of truth to plan and execute next steps with confidence.
Understand attendance at a glance and control permissions with the meeting access dashboard.
Keep discussions confidential
Provide a secure environment to discuss sensitive issues in strict compliance with board rules and regulations. Oodrive Meet is a complete solution to secure meetings from beginning to end, so you can share recordings, discuss sensitive documents, sign minutes, and ensure effective governance.
Deliver exceptional security with encrypted sessions and content, with password authentication by SMS (OTP), with the option for additional hardware for Touch ID and Face ID.
Protect content, data and communications with state-of-the-art technologies and the highest certifications. Oodrive Meet data is hosted in the EU using ultra-secure data centres (ANSSI SecNumCloud-certified) under the most stringent legal framework on company data protection.
Use the latest ultra-secure video conferencing and chat solutions with native integrations to Tixeo, Olvid, and an ecosystem of certified third-party apps.
Respond at speed and in full to audit requests with clear, fast access to board meeting documents. Oodrive Meet is designed to make compliance simple and support governance policies.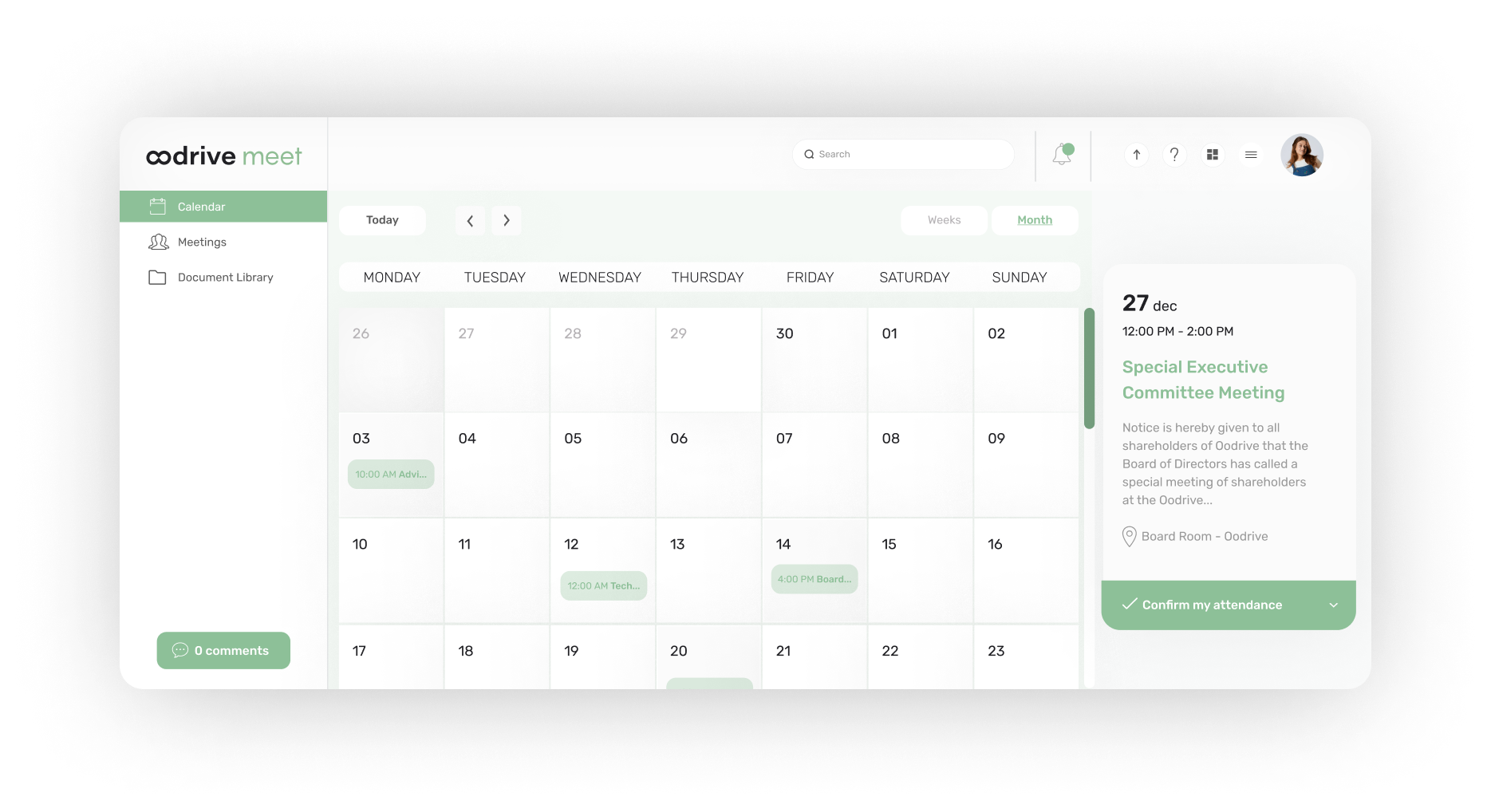 Make it easy for participants to work together on proposals, conduct resolutions, cast votes, assign tasks to one another and communicate via secure chat.
Share calendar invites for meetings with agendas and documents attached. Users can sync Oodrive Meet with webmail systems including Outlook or Gmail to receive reminders and ensure attendance.
Create and share document bundles with board members, with strict access permissions granted on an individual or group basis, sharing controls, and viewing histories for improved security.
Generate automatic minutes
of meetings, with lists of attendees, dates, and topics of discussion. Rapidly retrieve minutes of past meetings for sharing with stakeholders.
What is a virtual boardroom?
Learn about secure conferencing, trusted environments, and more with our FAQs.
A virtual boardroom is a digital solution used for preparing and holding governance meetings. Operating as a bubble independent of the company's computer network, it keeps stored data secure and discussions confidential.
A virtual boardroom has several advantages: it simplifies governance body organisation, it keeps documents secure and discussion confidential, and it saves time and money by drastically reducing paper use.
The information used before, during and after governance meetings is critical, and includes financial or strategic data, trade secrets, or sensitive discussions within the governance committee. If this data is stolen, lost or altered, the future of the organisation is put at risk.
With Oodrive Meet, you choose the date of your meeting, set the agenda, link in documents and invite participants in just a few clicks. There are so many features to help you prepare for your meetings in any circumstances, including when you are on the move.
In Oodrive Meet, the agenda for your meetings is clear, documents are sorted by point for discussion, and participants receive alerts for each change and can access all the elements they need to prepare for the meeting in real-time.
As the organiser, you control the participants and contributors at meetings via a dedicated view on Oodrive Meet. You set each participant's access, viewing and editing rights for the meeting documents. You can also view attendance status and activities for each person in the "activity monitoring" interface.
Yes, Oodrive Meet is designed to simplify access to documents for face-to-face or remote meetings. The organiser and participants access the meeting and its documents from the dedicated web interface or mobile apps (iOS and Android). Regardless of the connection interface chosen, security protocols are in place to secure access to your critical and strategic data.
Your meeting data is extremely sensitive, so access and rights are set per user. In addition, the solution uses several security protocols: password encryption, strong authentication, connection from mobile apps using Touch ID, etc.
Oodrive Meet is an ultra-secure "bubble" hosted in SaaS mode, independent of the company's internal network and even its IT department. Only authorised participants have access, so your critical data is safe.
With Oodrive Meet, your data is stored on servers located in Europe and protected by the European legal framework. In particular, the legislation prohibits their export outside EU borders. This means you benefit from a secure environment, much more so than if your data were on site.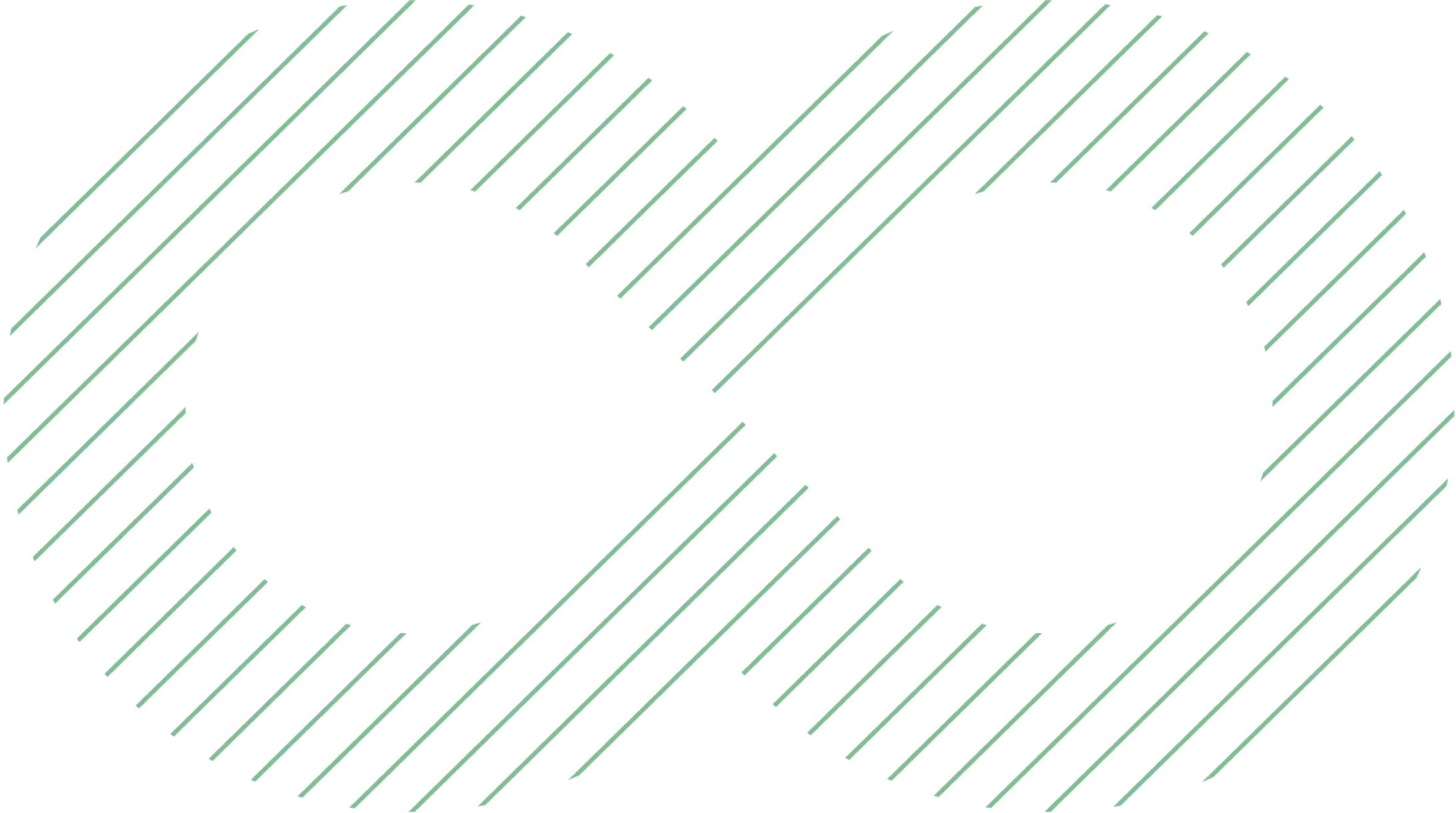 Provide the perfect environment for more open discussions
Find out how your business can secure sensitive content, without slowing down work.
This site is registered on
wpml.org
as a development site.