If we try to define what a digital workplace is, we would summarize it as this : a digital platform where an employee can access all the information, resources, applications and people that enable him to carry out his professional projects. In short, it is a digital work environment.
The security dimension of the digital workplace is also of primary importance. Find the ANSSI's recommendations on this subject. This digital ecosystem must meet security standards and criteria so that each employee can handle all types of files in complete confidence. So, to be completely accurate, we will summarize the digital workplace as a secure digital work environment.
Why does oodrive_platform meet the criteria of the digital workplace ?
Oodrive_platform enables you to centralize, manage, share and secure your sensitive content in a single ecosystem. It is therefore a real ally for taking the turn of the digital transformation in the company with complete confidence.
Create your own secure work environment with an application suite composed of 5 perfectly complementary solutions :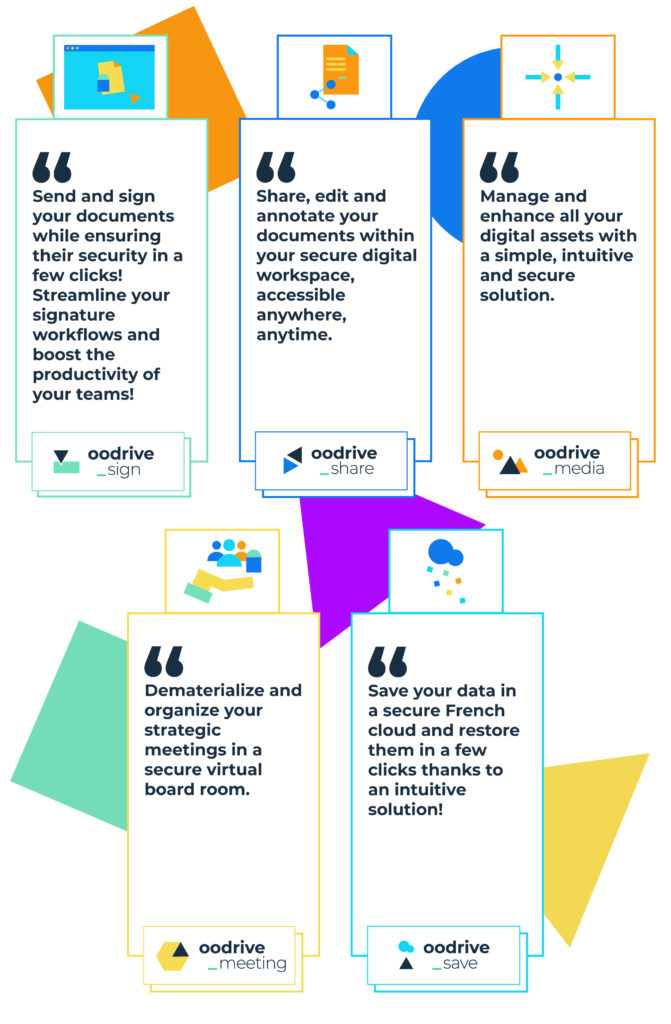 The health crisis has brought the home office to the forefront, and thus has brought about serious changes in the way work is organized. If this massive recourse to remote work has allowed to maintain the productivity of many companies for a while, the optimization of the implementation of telework is becoming more and more urgent, especially from a security point of view. Indeed, as you can read in our article dedicated to the Top 10 cyber attacks of 2020, the security of sensitive content must adapt and take into account these new organizational parameters. Beyond the purely technical issues of the security aspect, it is a massive awareness of the European digital sovereignty that must win over the companies of the Old Continent managing, handling or storing sensitive data.
This site is registered on
wpml.org
as a development site.